Special Offers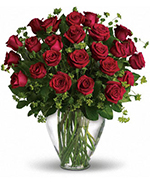 $

189.95
When it comes to romance, the red rose rules! And when it comes to delivering romance in a big way, two dozen gorgeous red roses are a brilliant choice. Twenty-four stunning red roses are arranged with greenery and delivered in a feminine vase. [...]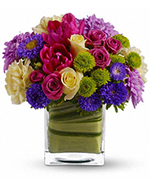 $

74.95
Oh, what a fine day it will be when you have this delightful spring bouquet delivered to someone special. Everyone will delight in the vibrant colors and bountiful blossoms, all thoughtfully arranged in a beautiful leaf-lined vase. Light yellow roses, hot pink spray roses, tulips and gerberas, yello [...]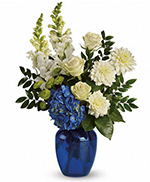 $

79.95
Sending this brilliant blue and white bouquet will surely garner oceans of appreciation from whoever receives it. Dazzling blue hydrangea, green roses and button spray chrysanthemums, divine white dahlias and snapdragons plus huckleberry arrive in a striking cobalt vase. [...]
Flowers are a fantastic way to brighten up your home or present to someone as a gift. Every flower has unique colors that hold a certain meaning or carry a message. From the evergreen red rose to the brightest purple tulips, there are thousands of flowers that have elegant colors in different shades and contrasts.
Following is a list of different types of flowers with elegant colors - Arlington that can be appropriate for any occasion:
Recent Products
Jasmine
The color of the jasmine flower is a pale hint of yellow. Jasmine is one such classic flower that plays an important role in our mental well-being. Jasmine symbolizes peace, love, sensuality, and beauty. These beautiful flowers induce sleep, help us make better decisions, cope with stress and change, and solve difficult life problems. In addition, jasmine also symbolizes the value of modesty because of its powerful scent.
Marigold
Marigolds are one of the most cheerful flowers in the world. They are available in warm, bright hues of orange and yellow, perfect for the summer season. Marigolds are known to spread positive emotions and energy along with optimism, good luck, wealth, and joy. The great thing about marigolds is that they need ample sunshine and require very little maintenance, so you don't have to make a lot of effort to take care of them.
Chrysanthemums
Chrysanthemums generally symbolize optimism, joy, longevity, and fidelity. These flowers do a lot more than just adding color and scent to your home. They hold the power to cheer you up and provide a soothing effect to the mind. Research has proven that the impact of flowers on our mental health can last for several days and is much powerful than resorting to other methods.
Sunflowers
Sunflowers are a classic addition to any garden. They still remain one of the most popular choices of flowers among most flower enthusiasts and florists. These beautiful golden blooms represent adoration, compassion, affection, loyalty, love, and passion. They have the power to brighten up anyone's garden. You can also give fresh sunflowers to your loved ones as a present and bring a smile to their face.
Tulips
Tulips are available in many colors and are one of the most popular and admired flowers out there. Their beautiful shape, texture, color, and scent are important qualities that make them great. Tulips have the power to make anyone happy because they represent love, peace, hope, joy, confidence, royalty, forgiveness, and cheerful thoughts.
Asters
You will find aster flowers in rich colors of lavender or purple, but they are available in white and pink shades as well. These beautiful, delicate flowers add a soft touch to any garden and have the ability to withstand the harsh summer heat. You can give these flowers to your loved ones as a present as they are beautiful and have a delightful scent. They symbolize wisdom, color, faith, love, and admiration.
Conclusion
You can literally find any colored flower to express every feeling you want to convey on any type of occasion. The beginning of a new friendship, your first date, the wedding bouquet, Valentine's Day, the anniversary present, and more… all these special moments deserve flowers, and what better way to wish your loved one than with a bouquet of beautiful, fresh, vibrant blooms?